Skillet recipes are having a moment, it's officially a thing. I put it down to the continuing obsession with the cooking habits of our neighbours across the pond in the US of A. That and Pinterest. But really,  a skillet has become a hipster foodie word to use instead of frying pan. Sounds funky though eh? Massive beards, skinny jeans and pointy shoes are optional you'll be relieved to hear.
This dish is part of my autumn collection of recipes created for Parentdish.co.uk, which I'll continue to share with you over the course of the next week or so. The weather has finally taken on a bit of a chill factor, so get your slippers on and let's do some comfort cooking.
The key with this particular recipe is to keep the heat on the down low. It's not the quickest dish in the world, but it's worth the 30 minute or so wait when you're rewarded with a sticky sweet and sour sausage supper that's delicious with a crust of bread to mop up your plate. It's even more delicious reheated the next day and shoved into a toasted pitta bread for a cheeky quick lunch.
Get yourselves over to Parentdish for the recipe…
As this is a pretty cheap recipe to make, I'm adding it into the mix for Credit Crunch Munch over on A New Addition on behalf of Fuss Free Flavours and Fab Food 4 All
With plenty of seasonal sweet potato in the skillet, I'm hooking this recipe up with Ren's Simple and in Season
The sweet potato, onion and pepper see me entering into October's round of Extra Veg, hosted this month by Emily at A Mummy Too on behalf of Fuss Free Flavours and Utterly Scrummy.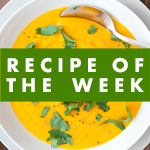 I'm also entering it into Recipe Of The Week, again over on Emily's blog A Mummy Too…