An easy seasonal bake full of warmth and flavour, topped with fluffy citrus cream cheese frosting it's hard to stop at one slice. You can use the flesh of pumpkin or butternut squash, with the overall texture being very similar to carrot cake.
I put this treat together for a local coffee morning my friend was hosting to raise money for Macmillan, and as it slices up into 24 pieces it was ideal for feeding the hoards of hungry mums. It seemed to go down well with everyone which is always a relief when you're testing a new recipe.
It's the perfect low faff bake if you're having a crowd over for Halloween, or a great baking project to keep the kids happy on rainy days over half term.
If you'd like to make it you can find the recipe over on Parentdish.co.uk with the rest of my autumn collection, but do come back and tell me what you think if you make it as I love getting your comments.
Have a good week everyone 🙂
Blog events…
I'm going to enter my traybake into Emily's blog event Recipe of The Week over on A Mummy Too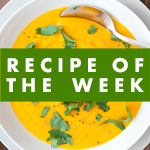 I'm also going to deliver a batch to Treat Petite hosted by Kat at The Baking Explorer and Cakeyboi with this month's theme being Trick or Treat being a great fit for this traybake.
With plenty of pumpkin in this bake, I'm hooking this recipe up with Ren's Simple and in Season
The pumpkin in this recipe means I'll be entering into October's round of Extra Veg, hosted this month by Emily at A Mummy Too on behalf of Fuss Free Flavours and Utterly Scrummy.
And finally I'll call in at Bake of the Week with Casa Costello