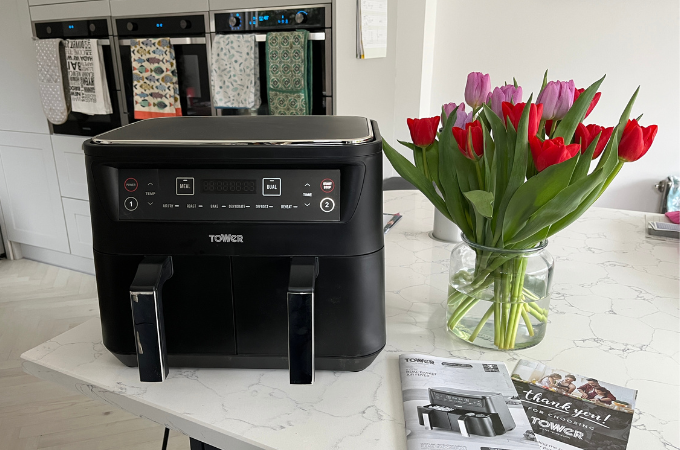 I'm a tad late to the Air Fryer party. It's not that I didn't think they were any good, it's just that I didn't feel like I needed YET another gadget in my kitchen. However when Very.co.uk offered me the chance to review the Tower Vortx Dual Basket Air Fryer for this blog, I couldn't turn it down. At last, the chance to see what the fuss is all about!
Looks
It's quite a hefty beast measuring in at 35cm deep, 31cm hight and 37cm wide with an 8 litre capacity, so it does command quite a bit of space, however it's no eyesore when it's sitting out on the counter thanks to its unfussy design. I like the silver trim and handles on the two 4 litre drawers that contrast with the smart matt black casing.
Controls
The touch control digital panel is pretty easy to get the hang of. You simply select which side you're cooking on and what type of function you're using. The temperature and timer are simply adjusted with up and down arrows. You then hit start and it does its thing.
Features
There are a few cooking functions to choose from…
Air Fry – Ideal for crispy chips, chicken nuggets, fish fingers etc
Roast – Ideal for meat or vegetables
Bake – Ideal for cakes, desserts or bread rolls
Dehydrate – Dried fruit, vegetables, chips etc
Defrost – Used for defrosting frozen food quickly
Reheat – For reheating food that has been cooked
You can use one draw or both drawers simultaneously. You can each drawer on a different function and use the Meal Cooking setting so they're ready at the same time, or you can select Dual function to set both drawers to the identical time and temperature.
What have I used it for so far?
The boys were super keen to see what the air fryer could do, so Sam, who is currently studying Professional Cookery at college and totally out-cheffing me in the kitchen these days decided to make a healthy spin on Chicken Katsu. It was wonderful watching him expertly trimming the chicken breast so it was perfectly shaped before he coated it in flour, egg and panko breadcrumbs. It cooked a treat on the Roast function in the Air Fryer – crisp on the outside and juicy in the middle. He put together a simple curry sauce on the hob while it was cooking and blitzed it smooth in the blender before serving it up with fluffy basmati rice. Yum.
Arlo wanted to see how it would handle a cheese toastie. The verdict – very bloody well! He buttered the outside of the bread before filling with lashings mozzarella cheese and then popped it in the Air Fryer for about 8 minutes (turning it halfway through) and it was a golden and crispy delight with minimal mess.
As for me, well it's been an absolute hero for cooking up super quick weeknight meals for the kids – oven chips, frozen chicken nuggets and fish fingers are all done in about 12 minutes. It's an absolute revelation. Shop-bought oven chips end up tasting like McDonald's fries!
I successfully cooked up a batch of veggie meatballs to go with some home-made tomato sauce and pasta for another rapid weeknight meal. These meatballs are terrible for drying out in the oven, so it was great that they kept a tender texture in the air fryer.
Cooking up crispy bacon is a cinch, plus all the fat drips through below the rack so it feels like a healthier way of cooking it. It's the same with chicken legs. I roast a batch every week for the dogs and they come out beautifully – crispy on the outside, juicy inside. I shred the meat up to go in a pot to mix with their dry food.
What will I be cooking in it next?
I've been having a look my favourite food blogs to research some of their tasty air fryer recipes and have collated my top 5 to try…
Cleaning it
It's very easy to clean. As soon as I've used it I swill it with hot water and a little fairy liquid, give it a bit of a scrub with a kitchen brush, rinse and leave to air dry. Simple. Because the cooking is all enclosed in the drawers, there's no residue on the machine itself. The ultimate test is cooking bacon – usually a really messy thing to clear up when you cooking it under a conventional grill. However, in the air fryer you can clean it up in minutes.
Value for money
This particular model costs £149, but you can get smaller versions with one drawer for a lot less. Check out Very.co.uk to see more…
What I particularly rate with this air fryer is how energy-saving it is – you can slash your energy use by up to 50% compared to a conventional oven. It also uses rapid air circulation technology to cook food 30% faster and with 99% less fat from just one spoonful of oil.
I've barely switched on the oven since I started using it. We definitely must be saving on energy as you often have to wait 5 minutes for the conventional oven to reach temperature, whereas the air fryer is just full of busy straight away. And anything that even slightly reduces the electricity bill is a friend of mine!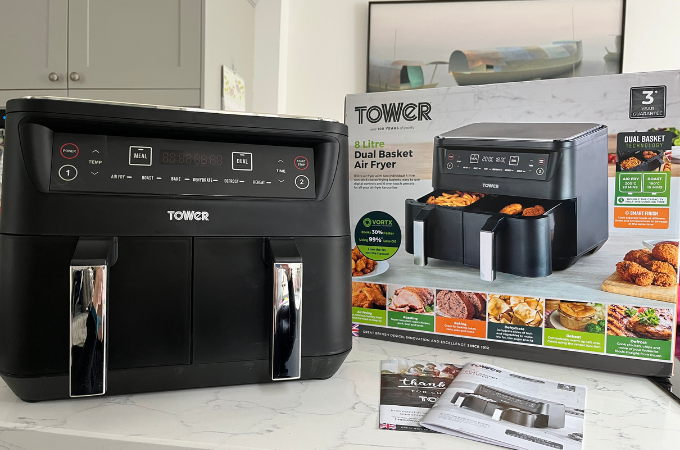 Overall Verdict
So far it has lived up to the hype and earned its place on my kitchen counter. Despite it's considerable size, the convenience of getting chicken nuggets and chips ready in about 12 minutes for the boys when you're a full-time working mum is the business. The boys have always been SO impatient about waiting for their food to be ready, so this really does reduce my stress levels. I'm genuinely excited to see what else I can cook with it. I'd love to hear what you make in yours – leave a comment below!
Disclosure: I have been sent the Tower Dual Basket Air Fryer for the purpose of this review. I get to keep the air fryer, but rest assured all views expressed are my own.