When you're run down with a cold and in need of some serious cosseting, make a bowl of this super simple Chicken and Pasta soup to nourish and soothe your soul.
Matthew took the boys swimming on Friday night. They had a great time zooming down the slides, however they bought home some germs as Arlo started sneezing the next day, and by Sunday was a spluttering snotty shadow of his former self. Deep joy. I decided to make a comforting chicken and pasta soup to try and revive him.
He padded through to the kitchen to see what I was up to, and screwed up his face when I told him what I was making for him. The only soup he tends to entertain is tinned tomato, which he dunks his cheese sandwiches in and then leaves the rest. However, I was determined to try this out on him and showed him the ingredients – knowing that he loves chicken, pasta, cabbage and carrots.
He softened to the idea and decided he'd help me to make it, so he stood over the hob merrily adding ingredients to the pan and stirring. It was impossible not to be captivated by the gorgeous aromas wafting around the kitchen.
SOUP SHORTCUTS
Before Matthew became a vegetarian I'd regularly make my own chicken stock after the Sunday roast, but as we're more of a Quorn roast family these days, I bought some ready-made stuff. I'd had to go to Waitrose for some ingredients last week, so picked up a nice pot of posh chicken stock while I was there. I think the key to a top notch soup is definitely good quality stock.
Rather than chopping the carrots into chunks I decided to 'julienne' them into fine strips. I used my rather fierce OXO Good Grips Julienne peeler which makes the whole process very easy. I wouldn't let Arlo go near it though as it's brutally sharp. If you have a spiralizer you could always use that for a similar effect.
To keep things cheap and convenient I used frozen ready-cooked chicken breast pieces, but you could use the shredded chicken leftover from a roast dinner. I love having the chicken pieces in the freezer because I can just add a handful to small meals for the boys or to their hot packed lunches. When you're catering for a mixture of meat-eaters and vegetarians it's essential to have ingredients like this in the freezer.
The recipe made enough for four generous portions which I've boxed up in the fridge to eat for my lunches this week. It's easy enough to make this into a vegetarian recipe simply by swapping in vegetable stock and quorn pieces or marinated tofu chunks – I'm going to try this next time as I felt guilty that I couldn't give any to Matthew after making the house smell so good!
How was the soup?
Arlo's verdict? He demanded cheese and crackers on the side, but he had a good go at eating it. He said it tasted buttery and nicer than he expected and really liked the chicken bits. It felt like a small victory that he even entertained it to be honest, helped along by the fact that he'd got involved with cooking it.
My verdict? This soup is UNBELIEVABLY tasty – a gorgeous flavourful broth packed out with plenty of nutritious goodies. I'll be more than happy to tuck into this all week, and with any luck it'll help me avoid the cold that has now spread to Matthew, and naturally will become man flu.
Chicken and Pasta Soup
A quick and easy chicken and pasta soup recipe that will comfort a cold and leave you feeling nourished
Ingredients
1

tbsp

olive oil

1

knob

butter

1

large

carrot

cut into thin julienne strips

1

lemon

zest and juice

4

sprigs

fresh flat leaf parsley

leaves picked, stalks finely chopped

1

tsp

garlic paste

or one crushed garlic clove

200g

cooked chicken pieces

shredded

1

litre

chicken stock

150

g

pasta shapes

1

bay leaf

100g

savoy cabbage

shredded

100

ml

madeira

optional
Instructions
Heat the olive oil and butter in a large saucepan over a gentle heat, add the carrot strips, lemon zest, parsley stalks and garlic and soften for a few minutes.

Add the chicken pieces, giving a good stir before adding the hot chicken stock, pasta and bay leaf. Bring to the boil and then reduce the heat and simmer with a lid on for 10 minutes until the pasta is just cooked though.

Add the cabbage, lemon juice and madeira and allow to simmer for a few more minutes. Check the seasoning and add salt and pepper to taste. Serve scattered with the chopped parsley leaves.
Recipe Notes
Tip: Frozen cooked chicken breast pieces go really well in this soup and are excellent value.
Go veggie: For a vegetarian alternative use vegetable stock and quorn pieces or marinated tofu.
Pin this recipe to make later
I'm entering this recipe into Emily over at A Mummy Too's #RecipeoftheWeek linky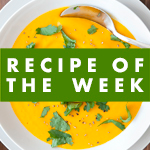 More delicious soup recipes to try
Mexican Tortilla Soup – Hungry Healthy Happy
Pea & Kale Soup with Mint – Veggie Desserts
Butternut Squash, Tahini & Lemon Soup – Fuss Free Flavours
Easy Carrot & Parsnip Soup – Eats Amazing