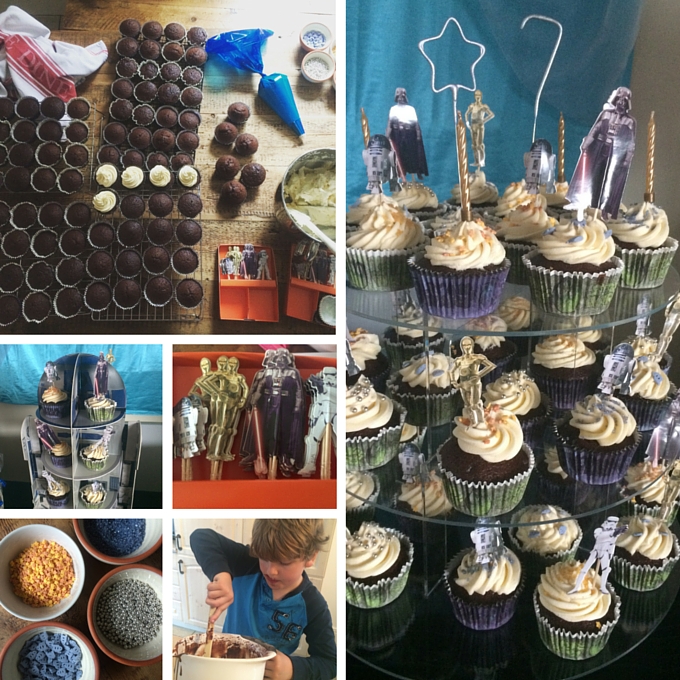 You can make these really easy Star Wars cupcakes without having to go through the usual pre-birthday kitchen meltdown.
I'm not one of these super clever bakers who can make cakes look like things… you know like tractors and zombies, really it just gets me VERY stressed so I prefer to leave it to the pros like my friend Lucy of Vanilla Frost. Instead I concentrate on making it taste as good as possible and opting for my usual amount of corner-cutting by using pre-made accessories along that theme so it at least looks recognisable. It can be pretty mortifying when someone thinks your cake resembles something else entirely than what you had intended. *ahem*
I certainly wasn't being lazy though. I made a whopping 94 cupcakes so there'd be enough for 41 children to eat at the party and take one home. It was a bake-athon. But enjoyable because it involved cake obviously. I kind of go into a bit of a fuzzy daze when i'm piping on the swirls of frosting and scattering sprinkles. It's definitely my happy place.
The Kit
So what accessories did I get? Well naturally I headed to my spiritual home Lakeland who came up trumps with this lot:
Cake Cases & Stand-up character toppers £9.99
Two designs of cupcake case with toppers showing R2-D2, C-3PO, Stormtrooper and Darth Vader
Enough to bake and decorate 24 cupcakes
Sprinkles £1.99
4 types of edible decorations in a shaker tub
Assorted sugar crystals, stars and R2-D2 shapes
Suitable for vegetarians
R2D2 cardboard cake stand £11.29
Made from sturdy card so can, with care, be called upon to serve again
Holds up to 12 cupcakes
Easy self-assembly
48 H. x 23 D.
The Recipe
My regular readers will recognise this as my standard express chocolate fudge cake recipe passed down from my mum. It's what I make every time I have to make a lot of cakes in not a lot of time. It's a guaranteed crowd pleaser. Instead of the usual chocolate fudge icing, I opted for a more showy swirl of vanilla frosting as they hold sprinkles much better.
Easy chocolate cupcakes with vanilla frosting
Makes 24 cupcakes
Ingredients
For the cakes
185g plain flour
2 tbsp cocoa powder
1 level tsp bicarb soda
1 level tsp baking powder
140g caster sugar
2 tbsp golden syrup
2 eggs
1/4 pint corn oil
1/4 pint milk
For the frosting
500g butter, softened
1kg icing sugar, sifted
2 tsp vanilla extract
2 tbsp milk
Instructions
1. Pre-heat the oven to 180'C, 160'C Fan, Gas 3. Line two 12 hole muffin tins with cake cases. Sieve the flour, cocoa powder, bicarb of soda and baking powder into a mixing bowl. Add the sugar and then mix in the golden syrup, eggs, corn oil and milk until you have a smooth batter – don't worry it's meant to be very runny.
2. Pour equal amounts into the cake cases and cook in the oven for 20-25 minutes. Stick a skewer in and if it comes out clean the cakes are ready. Transfer to a wire rack and allow to cool.
3. To make the frosting combine the butter and icing sugar, vanilla and milk until you have a super creamy and light buttercream.
4. Put a star shaped nozzle into a disposable piping bag and sit in a cup or glass. Spoon in the buttercream and then pipe swirls on top of each cake scattering with sprinkles. Any leftover icing can be stored in the fridge or freezer.
Disclosure: With thanks to Lakeland for sending me samples of their Star Wars range for me to try