If you've got a packet of tortilla wraps knocking around in the cupboard, then i've got five recipe ideas for you that are so flippin' easy and quick that even the most sleep deprived/stressed/time-starved parent can make them without breaking a sweat.
From quesadillas to home made nachos, bolognese enchiladas and lightning quick pizzas, the kids are going to love you for it.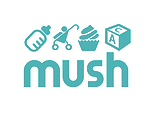 I've created these kid-friendly recipes for the brand spanking new parenting app called mush, which niftily matches you up with other local mums so you can hang out and not go bonkers.
So kind of like tinder crossed with the NCT, but without the one night stands or emphasis on breast feeding. Ahem.
As well as finding other mums in your region to buddy up with, there's also a wealth of witty survival guides and parenting hacks by some brilliant mama journos and the first of a few recipe features that i've written for them.
I hope I'm not explaining it badly… just in case here's a little video:
Here's where you can find all things mush:
Download the app from the iTunes store
www.letsmush.com
Like them on Facebook
Follow on twitter @mushmums
Check them out on instagram @mushmums too
And you can nip off and get my tortilla recipes here