Gathering close friends around our family table and tucking into a delicious feast has made our Easter weekend really special. My intention was to sidestep the traditional Sunday Roast and instead create an ultra laid back Easter BBQ lunch. The weather had other ideas though, so when the rain descended we were relegated to cooking and eating indoors. With the heating on.
It didn't stop the kids from forensically searching the garden for chocolate eggs though, or playing basketball until their jackets were drenched and their hair dripping wet. Good times outdoors, and good times indoors with the meat cooking and the Prosecco flowing.
#PowerofFrozen
I'd got all of my ingredients the day before from my local branch of Iceland. Have you been in there lately by the way?! Every time I go in they seem to have more and more sophisticated stuff.
I've always been a huge fan of frozen food – it's so convenient for family cooks who are under pressure to get stuff on the table. It's also often better value and retains more nutrients and vitamins than fresh food.
I go to Iceland weekly now to stock up on my Slimming World food which is exclusively available there, so I'm always keen to see what else they have in store. It might not be the first place you think of for your food shopping, but I'd really recommend going in and having a nosy.
Main Course
So what did I serve up? I got a range of meats and veggie alternatives, but as it's Easter the focal point had to be a piece of lamb, and not just any old cut.
Luxury Rack of Lamb
100% British Lamb, sourced from Red Tractor assured farms with a super tasty pepper, parsley and fried shallot crust. Defrost in the fridge overnight for 12 hours and then cook from chilled. Takes about 40 minutes – ours took a little longer. Easy to cook and carve so it's perfect for effortless entertaining. The lamb is priced per individual pack depending on its weight, ours was £8.12 (£15.99 per kilo) – I think this reflects the great quality you're getting.
Our verdict? It was juicy, great quality meat, perfect as part of our (indoor) BBQ feast, but equally would make an ultra smart main course to serve up with dauphinoise potatoes and steamed greens. I made a zesty minted pea cous cous and a simple Greek yogurt and mint dip to match the lamb – you can find the recipes for both below.
What else did we feast on from Iceland?
Sweet Potato Fries – these are hugely popular in our house and go so well with grilled meats. I love making my own, but these are so convenient to have in the freezer for a quick and nutritious side. (£2 per bag)
Pork Sausages – again, super convenient to have frozen sausages in as a fuss-free BBQ option – cook straight from frozen (£1.75 for 24)
Chicken Satay Skewers – these went down a treat with everyone, again cooked straight from frozen with no need to defrost first (£2 for 10)
Veggie Burgers – an absolute must for my husband, these Linda McCartney mozzarella burgers are Matthew's favourite. Really juicy. (£1.50 for 2)
Home-made BBQ Side dishes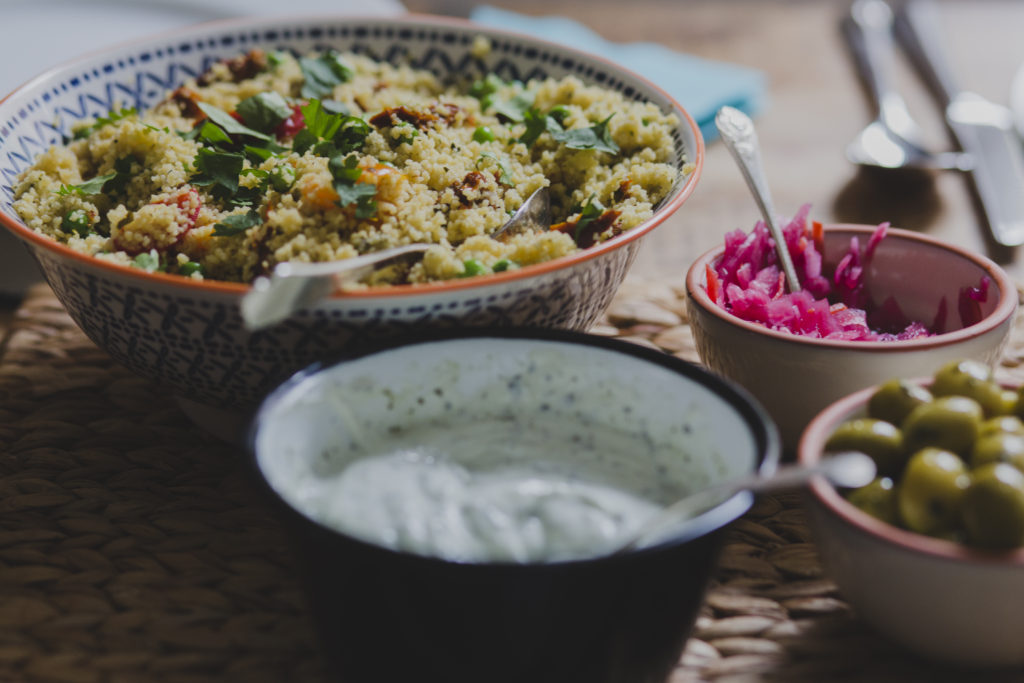 Cous Cous is so quick and easy, it's the perfect side dish to rustle up for a BBQ feast and my spin is a classic store cupboard recipe that goes a treat with lamb. The fresh yogurt dip is fat free so you can dollop it onto your plate without a trace of guilt!
Minted Pea Cous Cous with Greek Yogurt Dip
A quick and simple side dish with bags of flavour that's perfect for BBQs
Ingredients
Minted Pea Cous Cous
250

g

dried cous cous

300

ml

vegetable stock

1

lemon

zest and juice

2

tbsp

sun dried tomatoes

chopped

2

tbsp

grilled peppers

chopped

2

handfuls

frozen petis pois

2

tbsp

mint sauce

1

handful

fresh mint

leaves picked and roughly chopped to serve
Yogurt Dip
8

tbsp

0% Greek Yogurt

4

tsp

mint sauce
Instructions
Measure the cous cous into a bowl, pour over the hot vegetable stock, stir and allow to sit for a few minutes. Add the frozen peas and fluff up and mix with a fork to combine.

Add the remaining ingredients, stir to combine and then serve with chopped fresh mint on top.

Combine the Greek yogurt with the mint sauce, pop into a bowl and serve alongside the cous cous.
Dessert
A show-stopping dessert is an absolute must on Easter Sunday, and this croquembouche tower certainly did the trick for us! I'd like to say I made this all myself from scratch, but nope. Have you ever tried to make choux pastry?! It's very labour intensive. This beauty came out of a box and is an absolute bargain!
Luxury Croquembouche Patisserie Kit – £3.25
A milk chocolate golden egg nestled on a tower of cream-filled choux pastry profiteroles. The kit comes with with an easy to assemble golden stand, Belgian chocolate sauce, caramel sauce and gold coloured sugar crystals for decoration. You can construct it straight out of the freezer, so there's no need to put it together hours in advance. We just let the kids run around outside after the main course while I got on with 'making dessert'.
Building the stand was a pretty simple construction job. You then use a blob of caramel sauce on the bottom of each choux bun to stick them in circles around the stand to form the tower, then drizzle the rest over the top, along with the chocolate sauce and a final dusting of the golden sprinkles. I found the whole thing very satisfying to make.
We added frozen raspberries and fresh strawberries to really elevate the dessert into a colourful centrepiece for the Easter dessert table. It looked super stunning and I think it's a brilliant idea if you want to present a spectacular dessert but don't have a lot of time to make something from scratch. It's also great fun to let everyone dive in and pick off their own profiteroles and berries, if you're a wild and informal bunch like we are! The box says it serves 10, but I'd say more like 6-8 because it's so yummy people will want second helpings for sure!
Not bad for an Easter feast that came out of the freezer and store cupboard without even breaking a sweat! The weather might have been a damp squib but the lunch spread was a total hit.
You can find out more about Iceland's #PowerofFrozen campaign here
Disclosure: This is a sponsored post. I have been commissioned by Iceland to share this content with you. All views are my own. #ad