I'm very honoured to be hosting some fantastic guest posts over the next couple of weeks while I escape to France for a fortnight of no internet connection (deep breaths) and lots of good times with my boys.
First up is family friend and all round legend, Jan Bailey. I've known Jan since I was 11 and have always loved her irreverent sense of humour and impersonations of people in the village – she'd regularly have me and mum in stitches.
Jan is also pretty darned good in the kitchen, especially with the amazing produce she and her husband Richard churn out of their garden. So on that note I'll hand over to Mrs Bailey…
Coping with the glut – or how to savour a bit of Summertime in the depths of Winter!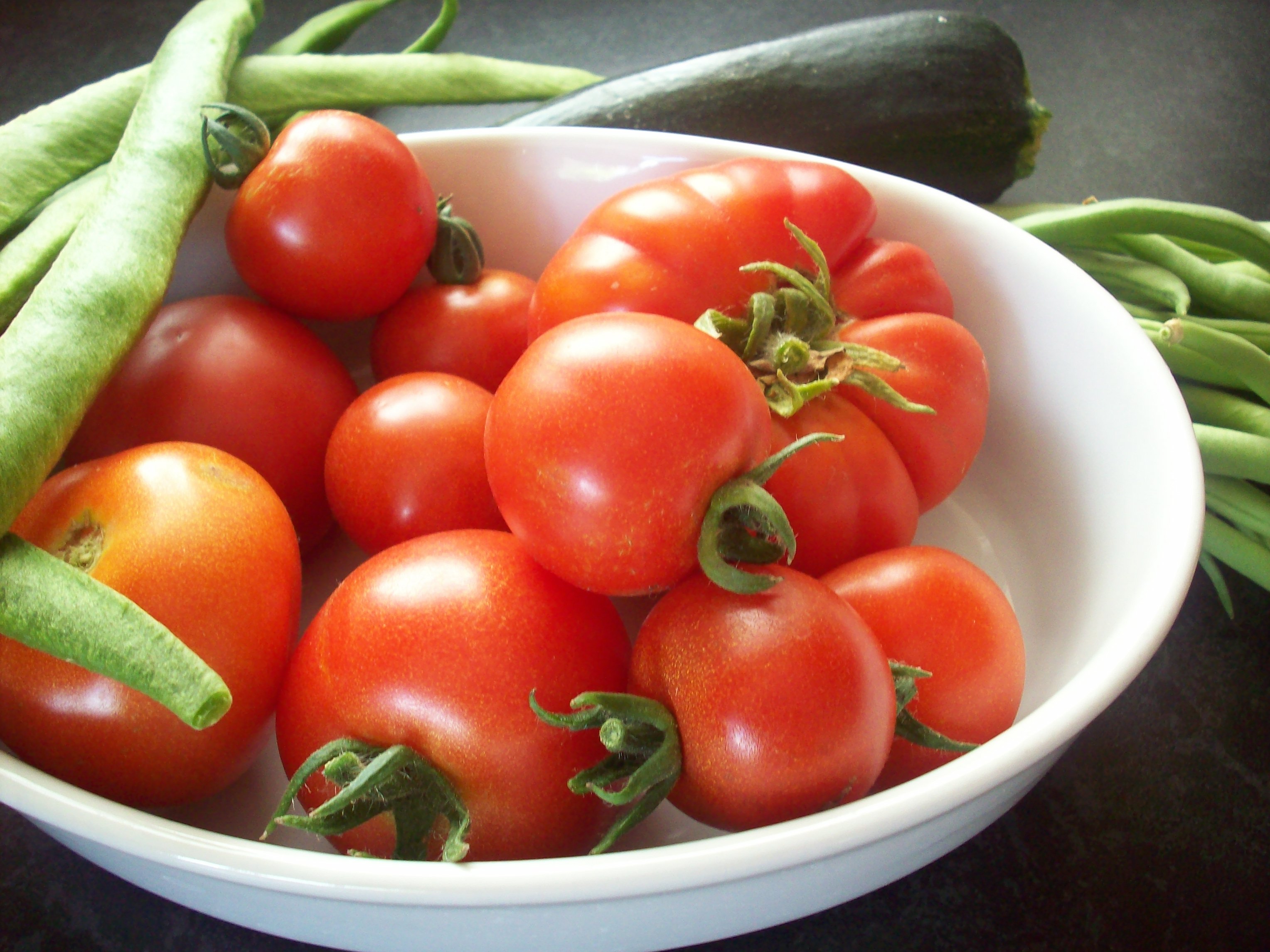 As we get into August our garden is at its most bountiful. I enjoy using as much as I can of the tomatoes, courgettes, cucumbers, beans, aubergines and peppers. Some of the surplus we give away to friends and even sell some (via a roadside stall with honesty box) and give the proceeds to charities.
I also try to prolong Summer by freezing batches of yummy tomato based recipes for use later in the year. How lovely is it to go to the freezer on a miserable November day and bring out some Provencale Sauce to perk up a humble chicken breast, pasta or fillet of fish? Or savour home-made Tomato, red pepper and courgette soup for a tasty lunch? Another great stand-by is a ratatouille which you can serve up as a vegetable accompaniment or use to top a baked potato etc etc.
The recipes tend to be adapted to suit what is most prolific starting with the tomatoes. We grow 3 varieties: the small, delicious Gardeners Delight, medium sized Alicante and the large flavoursome Marmande. All can be used in cooking but Marmande lends itself beautifully to making soups and sauces with its rich red flesh and few seeds ( it is a bit of a labour of love skinning and deseeding cherry tomatoes!).
Basic Tomato Soup
2 onions, chopped
4-5 Medium courgettes , chopped or sliced
Olive oil
800g-1kg Tomatoes, skinned
1 Red pepper, seeds removed and skinned
3/4 pt stock, chicken or vegetable
Fresh basil leaves, torn
Dried mixed herbs
3-4 cloves garlic, crushed (optional)
Salt & pepper
1. Into a large saucepan put onion & courgettes with a little olive oil and soften a little.
2. Next add the skinned tomatoes , stock & red pepper plus fresh basil, salt and pepper, dried mixed herbs and garlic. Simmer on a medium heat for about 30 mins.
3. Blend to desired consistency. Taste and adjust seasoning (beware too much salt as I find some stock cubes very salty).
I freeze soups in a concentrated form as it takes up less space and it is easy to "let down" with water or more stock when you are ready to use it.
This can form the base for your sauce or ratatouille – simply add chunkier cooked slices of courgette or aubergine, and peppers (French beans & mushrooms too) into the mix after blending.
This is a great opportunity to experiment with what suits your family's tastes. I find my little granddaughter far more adventurous than my own children were at the same age.