If you're determined to hold onto summer for as long as possible and are craving some recipe inspiration to plan some special meals in the coming weeks, there are some crackers amongst August's entries for Simple and in Season. From blackberries to blackcurrants, gooseberries to nectarines, it's a decidedly fruity round-up!
If you've not come across Simple and in Season before, this is a link-up for food bloggers to celebrate cooking with seasonal ingredients. It's a great way to discover what's perfect to eat right now and for getting ideas for new things to try.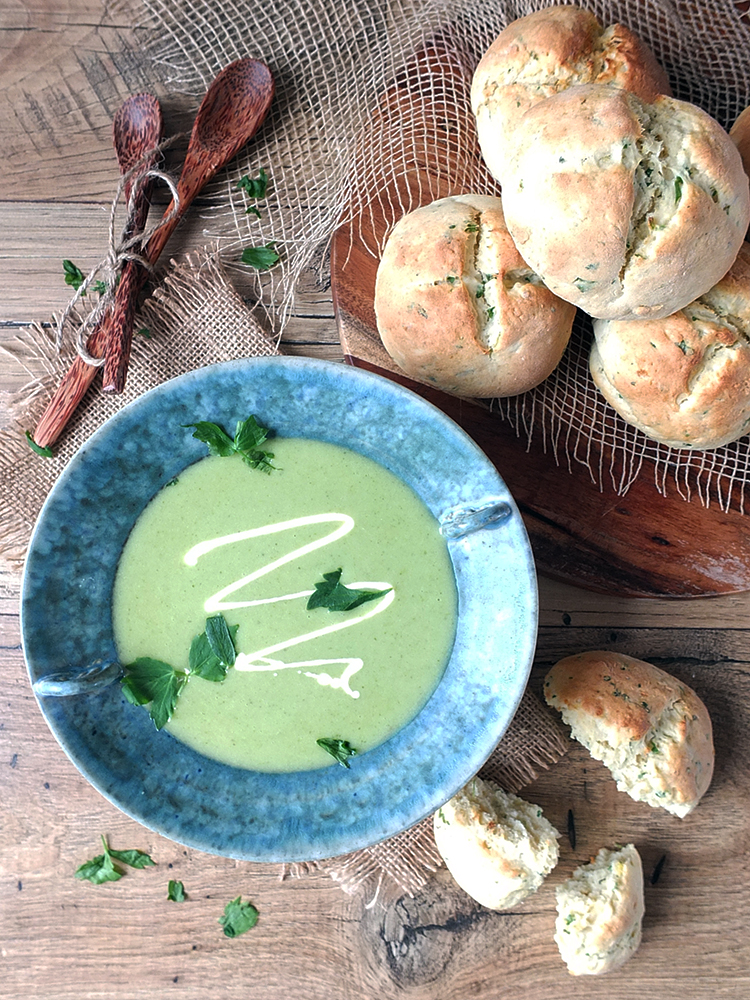 Let's kick off with this beautiful summery lunch idea – how stunning is this Pea, Potato and Lovage Soup from Elizabeth's Kitchen Diary?! I've never tried using lovage in my cooking, so I think this is a good place to start. Get the recipe here
Start the day with these Blackberry Hazelnut Breakfast Bars from Everyday Healthy Recipes. They're packed with goodness and a fab way to use up those delicious brambles if you've been out plundering the hedgerows. Get the recipe here
I think this Rose Chermoula Roasted Chickpeas and Carrots with Griddled Courgettes from Natural Kitchen Adventures looks like an amazing lunch idea. Super tasty and something to impress weekend guests perhaps?
Get the recipe here
I'm really excited about the mix of flavours in this Apricot Chicken with Horseradish Sauce from Everyday Healthy Recipes. I'm a huge fan of the sweet and salty combo, so I'll be trying this out for sure. Get the recipe here
Now it's time for a spot of baking with these sumptuous looking Chocolate-Cherry Pecan Brownies from The Gluten Free Alchemist. Lordy they look good! Get the recipe here
I am absolutely loving this Gooseberry and Gin Jam from Foodie Quine. Tangy and not too sweet, I'd love to try this on my toast of a morning! Get the recipe here
Another recipe from Foodie Quine with these lunchbox-friendly Blackcurrant Oaty Flapjacks. I've got some blackcurrants in the freezer from my friend's mum, so I think this might have to be done. Get the recipe here
And finally, here's a rather splendid dessert idea. Check out this super-pretty Nectarine Frangipane Tart from Tales From The Kitchen Shed. I'm thinking this would be a real show-stopper for a Sunday lunch with friends. Get the recipe here
Thanks so much to everyone for taking the time to link their seasonal recipes up here over the last month, I think you'll agree they're absolutely stunning.
Join in with Simple and in Season for September!
GUIDELINES
Simple and in Season is a monthly food blogging event where you are invited to link up any of your seasonal recipe posts – anywhere in the world! Join a thriving community of home cooks who love to share their seasonal creations.
Each month, there will be a round-up of all the entries.
All you have to do is come up with a dish using any seasonal produce you like (savoury or sweet) post it on your blog, add a link to this post mentioning Simple and in Season and linking to www.feedingboys.co.uk and then manually add the link to your post in the box on each month's launch page (click the badge on my Blog sidebar to find the current host)
The linky will close on the 30th and a round up post featuring all the recipes entered will be posted at the beginning of each new month.
You can take inspiration from anywhere – adapt a recipe from your favourite cookbook, try something from a magazine, make up your own creation or share a family favourite. The usual rules apply when using someone else's recipe, please either get permission from the author to post it or adapt it in some way stating how/why you've changed it.
Include any seasonal produce you fancy including fruit, veg, herbs, meat or fish.
Link as many recipes as you like. You can link posts entered into other blog events or carnivals as long as it involves a seasonal food item (and fits in with their rules).
The linky-up is open to anyone, anywhere, and although it will be nice to feature as much British produce as possible, it will be interesting to see what's in season elsewhere.
By entering your link, you are giving me permission to add your photograph to the round-up. I will link back directly to your post when I include you.
If you have questions or problems, email me or leave me a comment in the comment box at the bottom of the post.
If you are on Twitter or Instagram, tweet your link/photo adding the hashtag #simpleandinseason or add me @cookingkt and I will re-tweet it.