Is it possible to have a relaxing family holiday?! Realistically no, I mean is it just me or do you find spending 24 hours a day with your offspring more than a little challenging?! Sibling squabbles, thermo nuclear meltdowns in a confined space and epic nosebleeds were just some of the challenges we battled this year. HOWEVER you can help things along by opting for a destination that has a tonne of stuff aimed at kids.

So when Eurocamp got in touch to see if we'd like to review one of their holidays, I pretty much snapped off their arm with enthusiasm. Bear in mind we'd not had a family holiday for over two years and were feeling a little crazed.
We opted for the Duinrell Holiday Park in the Netherlands, as it offered a theme park with a gazillion rides, water slides and was nestled in a really pretty part of coastal Holland. It's not the first country you think of to escape to for a family holiday, but I'd heard lots of good things from people about holidaying in Holland so decided to give it a try.
Getting there
Living in Whitley Bay, we're lucky enough to have a ferry terminal 10 minutes up the road. So we happily avoided the dreary, joy-sucking drive down to Dover and simply cruised onto the boat in a very hassle free way. We travelled overnight with DFDS Seaways and the ship left Newcastle at 5pm and arrived in Amsterdam the next morning at 9:30am.
I was, however, dreading the journey as i'd had a harrowing experience on a rough crossing to Germany as a child. I was so sick I thought I was going to perish at sea. Dreadful. So I armed myself with many packets of sea sickness tablets and hoped for the best, and i'm happy to say it was totally fine! In fact as the sun shone down and we cruised out of Tynemouth enjoying an ice cold beer on the deck, it felt pretty darned glorious. The added bonus was Granny and Grandad waving us off from the cliffs next to the Priory – they took the picture at the top with our boat in!
Top tips for surviving the crossing
Motion sickness tablets are essential. Obvs.
Book a cabin with a window, it really helps to be able to see out if you're a bit claustrophobic like I am. Comfort-wise it's Premier Inn level but on a teeny tiny scale.
You'll need Euros or a card to pay for stuff on board. The prices are shocking – like a floating motorway service station.
Pack your own food and drink or you'll end up spending a small fortune! Don't be tempted to pay for breakfast when you check in either. We hauled a huge cool box along with us. Make sure you have plenty of water as it gets really hot in those airless cabins, plus taking motion sickness tablets can make your mouth dryer than chewing on twigs. Bleugh.
Take iPads/books/entertainment for the kids. They had a cinema on board but it's expensive, and if they feel nauseous it'll be a waste of money. There was a very small play area with a ball pit, but it had limited appeal for our two boys. We also had to wait quite a long time in the car to board the boat on the way home, so it was good to have their screens in the car to keep them quiet.
Duinrell holiday park
The holiday park was under an hour's drive from the boat in coastal Holland. Easy peasy. It's a beautifully landscaped site in an idyllic leafy backdrop, just a few minutes drive from the dreamy dunes of Wassenaar.
Check-in was from 3pm but despite our early arrival we were able to park on site and explore before we got access to our holiday home. There's a central hub called the Duinrell Plaza which is home to a well stocked supermarket, bar, restaurants and entertainment.
There are a couple of table tennis tables out front, so if you're a bit partial make sure you pack bats and balls. You can buy them at the supermarket too.
With the accommodation, facilities, and amusement park it's a big site to navigate so we took the boys' scooters for getting around which was hugely successful. You could also take your own bikes or even hire them on site. The boys had epic fun when we hired pedal go-karts for the day (13.50 Euros each). You just need to make them very aware of the cars and what side of the road they should be on!
The accommodation
We stayed in an Avant Holiday Home that had 3 bedrooms and 1 bathroom. It was neat, modern and stylish inside, and had a lovely raised wooden deck at the front with table and chairs and a sail awning to keep the sun (and rain) off. It's basically a cross between a static caravan and a lodge.
Each of the bedrooms had a compact wardrobe, basic camping style beds (one double, one twin) with wooden slats and thin mattresses, plus a bunkbed in the smallest room. The beds were comfy enough, but it's not five star luxury. You might want to bring your own bedding for an extra bit of comfort if you've got room in the car. There were black-out blinds AND curtains, plus an 11pm silence rule, so things were very quiet and dark after lights out.
The bathroom had a sink, toilet and shower. You'll not be swinging a cat in there, but the shower was bigger than I thought it would be. Shelves and a roomy cupboard were super useful for stashing all the toiletries.
The open plan living area had a corner seating area with collapsible table meaning you could eat inside if it wasn't a warm day. There were plenty of cupboards and shelves for keeping the clutter at bay which is essential in such a compact space. The bank of windows and glass doors across the front of the holiday home gave it a really spacious and light feel when you were sat inside.
The kitchen was well equipped with a large fridge and a neat amount of freezer space at the top. A full-size gas oven, grill and hob. There was even a dishwasher, so make sure you take a stash of tablets with you! There were enough pots and pans to cook decent meals, cafetiere for making fresh coffee and handy microwave. The only sharp knife was a bread knife and the chopping board was microscopic though, so that was a bit of a challenge. I'd pack cling film, foil, freezer bags and rubbish bags.
There's also a gas BBQ next to the deck which is great for some al fresco dining, should the weather be agreeable. We did that a couple of times.
The seagulls were a nuisance so watch out for them, and definitely don't leave food or rubbish bags unattended on the deck or they'll decorate the surrounding area with them (not ideal when your child is suffering from nosebleeds and you've stuffed a bin liner with all the tissues you've used to mop him up).
There's no TV (sharp intake of breath), just a little radio/CD player. We took our iPads and bluetooth speaker so that we could watch movies in the evening. Wi-Fi is available at a cost of 7.95 Euros a day or 24.95 for 7 days. However this is for one device at a time! This became a lesson in patience for all of us!!!!!
There are plenty of plug points in the holiday home so make sure you take adapters. We also took a multi-plug extension lead so we could charge all our devices in the same place more easily. There was a hairdryer there too!
Take a stash of your favourite board games – we had some epic Scrabble and Blokus battles!
The holiday homes are located in a series of small fields with parking close by. All the facilities and theme park are a comfortable distance away on foot, but it's fun to be on scooters and bikes for the kids.
Food options
Eating out
You could spend a fortune eating out every day, and the quality of the food both on-site and in the amusement park was truly fabulous. Delicious freshly prepared meals, all made to order in front of you. We were on a tight budget this holiday, but when we did try the on-site food it turned out to be a far cry from the theme parks in the UK. Restaurant chain La Place offered fresh smoothies and juices, burgers cooked on the spot in beautiful soft and herby bread rolls with heaps of salad, and the pizzas were impressively large and fully loaded. Yes it was a little pricy but when we did splash out we felt it was worth it for the quality.
For an authentic taste of the Netherlands, you have to try the pancakes. There's De Carrousel on-site, but our favourite haunt was the Pannenkoekenhuis just as you turn left out of Duinrell. It's a thoroughly charming traditional chocolate box setting – all dark wood and gingham curtains – and WHOPPING pancakes!
Eating in
Self catering didn't feel like a chore. The on-site supermarket was excellent in terms of choice and convenience, but we found it cheaper to drive to Dirk in the nearby town. The fresh produce in Holland is wonderful as so much of it is locally produced, so the supermarkets are full of lush fruit and veg. There's not the same choice of vegetarian options that we get in the UK, although I did spy a big block of tofu. Having experienced this in France a few years ago, I'd filled our cool box with plenty of Quorn products which really helped! Don't forget to take your re-usable shopping bags too.
The amusement park
It's MASSIVE and there are loads of great rides to try… none of them last very long so the queues do go down quite quickly. We were there out of season so it wasn't particularly busy during the week. It was full of school groups who cleared off by about 4pm leaving us with the run of the park for an hour which meant the boys could go back to back on a lot of the rides which they LOVED. If you're there in season it's probably a good plan to get to the park as soon as it opens and then again later in the day to avoid the queues.
The best rides for thrill seekers
The Mill – like a spinny version of the pirate ship – aka my idea of living hell
The Waterspin – you get strapped in and flipped upside down over water fountains – yeeeshk!
The Falcon – a roller coaster that starts with a vertical climb, followed by a vertical drop and then immediately dives into a high speed set of loop the loops. Matthew loved it. We loved watching him on it.
The best rides for the less bold
Dragon Fly – Classic roller coaster fun with no upside downy bits but fast enough to get some thrills. Hands down Sam and I's fave ride and we lost count of how many times we went on it. We had fun pulling different poses for the ride camera – 'the dab' being our favourite.
Wild Wings – Hop into your own mini plane and swing into the skies. It looks worse than it is as it's so high up and you can spin your plane if you want to. It's actually quite relaxing though and even Arlo and I braved it.
Duinrell Splash – The shortest log flume i've ever been on, but it's fun. You can opt to go in a covered boat and avoid the soaking or go for the full experience. We loved the fact that once you've got off you can get right underneath the tidal wave caused by the ride. You can either stand in the glass shelter and watch, or stand in front and get totally drenched!
The best rides for little people
Ship Ahoy – This is a mini version of the classic swinging pirate ship ride, so perfect for little ones who want to feel like they've been on something scary. Personally more than once on it and I feel very green around the gills. Arlo the iron stomach went on it four times consecutively.
Mini rollercoaster – Again another mini version of a grown-up ride that's ace fun.
Whirligig Aquaswing – I hate this ride as it's spinny, but the kids flipping love it.
Bumper Boats – Like dodgems on water. Muchos fun as a family trying to take each other out!
Tiki Bad Waterpark
You do have to pay to get into the Waterpark, but as Eurocampers you get a discount and it's mega cheap at 4 Euros for 2 hours, 5 Euros for 3 hours or 6 Euros for unlimited all day access. It's open from 10am until 10pm!
There's an outdoor and indoor pool where the 1km labyrinth of water slides are based. As it was just out of season for us the outdoor bit wasn't in use. I imagine in the hot summer months we'd have spent a lot more time hanging out there, but as it was we only went to the pool twice.
The changing rooms are clean and modern, with a cool digital locker system. However the indoor pool felt a bit dated, and isn't overly large if you just fancy a swim. There's a little area for babies, a small jacuzzi and a whirlpool that is so whirly it forces you to swim in a circle rather than loll about. The main pool has a wave machine that bursts into life at regular intervals to the menacing sound of a Hunger Games style klaxon.
It really is all about the slides. Sam and Matthew were loving them. Arlo and myself, not so much. There's probably about 10-12 different chutes to hurl yourself down. The first one I went on with Sam was just about bearable, but then I went on a double inflatable with Sam down something called the 'Starfright' and literally thought I was going to hurtle off the dinghy and be splatted at high speed. Very traumatic. I was screaming at Sam to make it stop. He was mortified. "Shush Mum!" was all the sympathy I got. My relationship with Tiki Bad was over.
If your kids love waterslides they'll love this place though, so don't listen to me!
Places to visit
If you've got the energy to leave Duinrell, there are loads of places you can take a trip out to, some right on the doorstep, others a drive away. Here's a rundown:
The beach – If it's a sunny day, pack a picnic and head to the local beach just outside Wassanaar. You could easily cycle there from Duinrell on the network of safe cycle paths, or drive and access the beach via one of the many car parks. Walk or cycle through the dunes or head down to the beach to dip your toes in the North Sea! It's surprisingly beautiful with some super stylish looking beach bars.
Sheveningen – This is a family friendly seaside resort 10km away which offers buzzing bars and restaurants, a sandy beach, pier, surfing, the Sea Life Centre and even a miniature model world.
Delft – The idyllic and unspoilt town where they make the famous blue and white pottery.
Windmills – About 5km outside of Delft, on the road to Nootdorp you'll find the Windmill Windlust tour.
Gouda – This typical old Dutch city with pretty canals is the best place to indulge in a day of cheese! Visit the cheese market by the weighing house on Thursdays.
Amsterdam – It's only 40 minutes to drive to my favourite city in the world. We were gutted not to go this time, but Sam was having epic nosebleeds and we didn't think a day in the city would be much fun for him. We had planned to do the Park + Ride option, visit the Amsterdam Dungeons, NEMO Science museum, take a canal tour and a trip to Vondelpark. But it'll have to wait until we go back. We found the Iamsterdam.com website to be an absolutely brilliant resource for planning a day there.
Value for money
Compared to a bank-account-sapping day at an extortionate theme park in the UK, a week away at Duinrell is excellent value. A week at Easter in a holiday home starts from £479, with a week in July still pretty reasonable coming in at £662. That's not per person, that's for everyone. You just need to factor in your ferry crossing on top of that, plus food and entertainment.
Would we go back?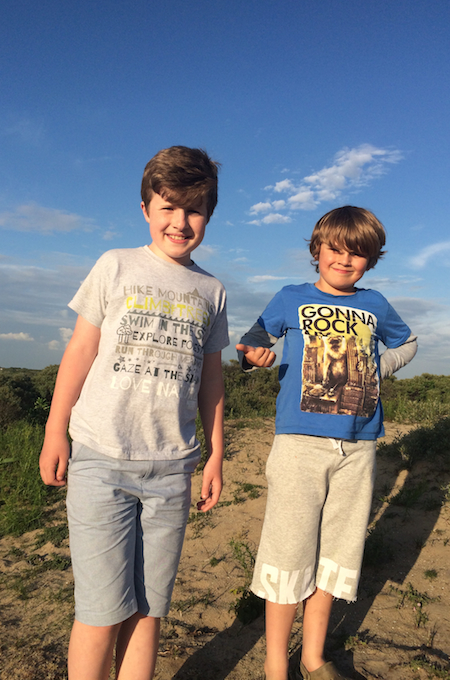 We're not huge fans of theme parks normally, but I'd genuinely love to go back to Duinrell with a gang of friends and their kids. Staying on site allows you to take the rides at your own pace rather than trying to pack everything into one day. Plus you can mix things up with going out of the park and exploring the beautiful local area or day tripping to fabulous Amsterdam. There's so much to explore we barely scratched the surface! It's such a convenient ferry crossing from Newcastle to Amsterdam, that makes all those epic drives through France a distant memory. Location wise it's close enough to see my best friend in Brussels too which is only a two hour drive away – huge bonus!
I loved how friendly everyone was – the Eurocamp staff were mega attentive and the local people so welcoming and chilled out.
Now it's all over and i'm knee-deep in laundry, I'm still holding onto those moments when the boys gleefully went again and again on their favourite rides with massive stupid grins slapped across their faces.
Disclosure: We were guests of Eurocamp, but paid for our own ferry crossing. All views expressed here are my own and are a genuine appraisal of our experience at Duinrell.