Create something a bit different for lunch with vibrant chunks of organic roasted beetroot with garlic served up in a wrap with griddled halloumi and salad leaves drizzled with a fresh Greek yoghurt dressing.
I'm taking the #OrganicUnboxed challenge, and was sent an enormous box of organic produce last week to see what recipe I would come up with. It felt a bit like Ready, Steady, Cook! Except Ainsley Harriot and Fern Britton weren't breathing down my neck as I tried to decide what to make. Imagine?! Actually no, I'd rather not.
The great unboxing
As you can see here there's loads of lovely stuff in our mystery box, from beautiful leeks to wholesome spelt flour, delicious dark chocolate, butter, and yes, gin! The boys loved getting it all out to see what was what.
Of all the ingredients the fresh beetroot immediately captured my culinary imagination.
I'd never roasted beetroot before and along with the garlic i'd been sent I thought this would make a lovely pairing. With a generous drizzle of the organic olive oil, some sea salt flakes and a few sprigs of fresh thyme it went into the oven. Peeling and chopping beetroot leaves you looking like you're fresh from a crime scene though, so wear some disposable gloves if you can!
You could serve this roasted dish up as a side to the organic steak, simply grilled, but as I was feeding my vegetarian husband I opted to serve mine up in soft tortilla wraps with some grilled halloumi cheese and a fresh organic Greek yogurt dressing.
The amazing looking meat i've been sent has gone into the freezer and will be brought out once barbecue season kicks in. I'm thinking spiced lamb burgers, sweet and sticky chilli and maple glazed pork belly strips and the steak straight up with lots of glorious sides.
The benefits of organic…
Organic food may cost a little bit more, but when I can I will spend a bit extra at the supermarket because of facts like this:
Organic crops are exposed to fewer pesticides
Organic livestock (chicken, beef, lamb, pork etc.) are truly free range, meaning they have more space to roam and enjoy high welfare standards
Organic dairy cows are free range and pasture fed which really comes through in the taste
 Organic farming is great for farmers and more environmentally friendly
 Recent research has shown that organic crops are up to 60% higher in a number of key
antioxidants1 and that both organic milk and meat contain around 50% more beneficial
omega‐3 fatty acids2
If you want to find out more about the #OrganicUnboxed campaign check out the video below
#ad
I was really pleased with how the wraps turned out, and the roasted beetroot and garlic leftovers were great mixed in with salads through the week. The flavour of the beetroot really sweetens when you roast it, and the garlic becomes more mellow.
It's a deliciously different lunch full of vibrant colour and bold flavours that really makes the most of the organic ingredients.
Roasted Beetroot, Garlic and Halloumi Wraps
Serves 2-4
Prep time: 15 mins
Cook time: 40 mins
Ingredients
300g raw beetroot
1 bulb garlic
olive oil
sea salt
5 thyme sprigs
1 x 225g block halloumi cheese
salad leaves
4 soft tortilla wraps
For the dressing
80g Greek yoghurt
2 tbsp red wine vinegar
1 tbsp extra virgin olive oil
sea salt and freshly ground black pepper
Method
1. Pre-heat the oven to 200C, 180C fan, gas 6. Peel the beetroot and chop into wedges and put into a roasting tin. Separate the cloves from the bulb of garlic, don't bother peeling and toss these in with the beetroot. Give it all a generous drizzle of olive oil, a scattering of sea salt flakes and shake it all around. Finally add some thyme sprigs and then roast for 30-40 mins until the beetroot has softened.
2. Make the dressing by putting all the ingredients in a jam jar and giving them a good shake. Check the seasoning and adjust accordingly.
3. Slice the block of halloumi cheese and then fry in a griddle pan for a few minutes on each side.
4. Turn the roasted beetroot and garlic into a serving dish and put it in the middle of the table with the pot of dressing, plate of wraps and a dish of salad leaves. Then everyone can get stuck in building their lunch!
For more on the #OrganicUnboxed campaign visit their social channels:
Facebook: www.facebook.com/organicuk
Twitter: @organicukfood
Instagram: @organicukfood
Disclosure: I have been commissioned to create this recipe and promote this campaign on my blog. All views and recipe ideas are my own.
Linky love
I'm entering this into April's round of Simple and in Season, hosted here on Feeding Boys.
Meat Free Mondays with Jac from Tinned Tomatoes – a great place for some veggie inspiration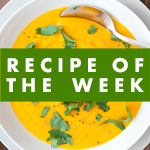 Recipe of the Week with A Mummy Too