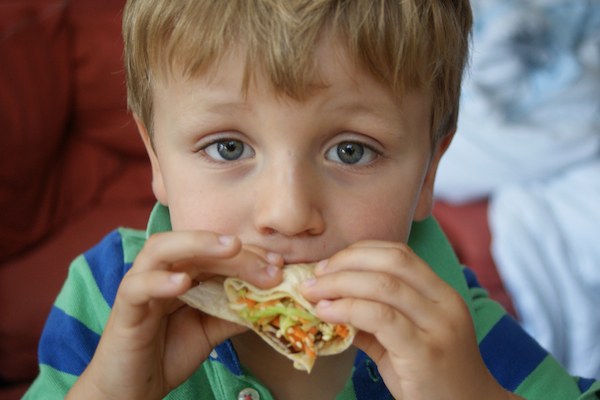 The sun comes out and we're embracing the picnic blanket, but eating al fresco doesn't always mean we put a lot of thought into the food.
Picnics are often spur of the moment and see us dashing to the shops and grabbing the nearest ready-made treats you can just break open and thrust into the hands of the ravenous kids circling the rug.
But with a little effort, we can easily cut down on the junk we're packing into our cool bags.
I'm working with Organix again on their No Junk campaign to encourage everyone to eat more healthily and cut down on processed food full of weird and wonderful ingredients. You might remember how I horrified I was when I discovered there was pork gelatine in Party Ring biscuits – bleugh! Just taking a closer look at labels on food can really make you want to clean up your act.
So I thought I'd give you my top 10 tips for a junk free picnic, along with some great recipes to try… Please feel free to add any of your own tips and ideas in the comments below, I always love hearing from you!
1. Ditch the sandwiches and have fun with wraps!
My boys love soft tortillas rolled up with tasty fillings like these Asian Turkey Picnic Wraps with crunchy white cabbage. But you could add anything you like, from hummus and grated carrot, mozzarella, tomato and basil, ham and baby spinach. Experiment with new fillings and see how the children respond.
2. Omelettes to go…
Sounds odd for a picnic, but my mini baked spaghetti omelettes cooked in silicone are delicious eaten cold with a tangy tomato dip. Eggs and pasta will give your little ones some decent energy and protein too.
3. Make your own dip…
I don't know about you but shop bought hummus gets REALLY dull after the fourth picnic, so why not whizz up your own dips? It's so easy it's ridiculous, as long as you have a blender. You could make your own hummus, or have a go at my cream cheese based feta, pea and mint or sun kiss tomato, parmesan and basil dips. Have fun with flavours, and then cut up lots of crunchy salad veg for dunking. Which leads me nicely onto my next tip
4. Keep salad sticks crunchy…
Pop them in a zip lock bag or plastic container and cover in kitchen paper that's been soaked in water. This will stop your carrot sticks from curling up and drying out.
5. Freeze your little cartons of fruit juice or bottles of water…
Then they'll act as cool packs in your picnic bag. By the time you've got to the park they'll start to thaw and you'll have wonderful ice cold drinks. Make sure you look at the label and don't choose those drinks with weird artificial colourings and flavours in. I don't know about you, but they send my kids NUTSOID!
6. Do a batch of picnic baking…
Of course it's easy to buy those tubs of mini brownies and flapjacks, but they're very expensive and full of all kinds of ingredients that wouldn't be necessary if they were home made. Why not do a tray bake, cut up and freeze so you've got something you can grab. Again they can defrost in the cool bag.
7. Choose more exotic fruit….
The kids might be more tempted by slices of refreshing watermelon, a bag of sweet dried mango, kiwis cut in half and served egg-cup style with spoons, than the bog standard satsumas and apples.
8. Swap crisps for popcorn….
Kids go crazy for popcorn, but if you've popped it yourself and not added sugar but just flavourings like cinnamon, paprika or rosemary you can feel much better about their snackage. And the beauty of popcorn in the great outdoors is that you don't have to spend the next week picking it out of the back of the sofa!
9. Miniature bakes…
Whether it's loaf cakes or mini quiches, as long as they're small they're portable! Food that kids can grab, scoff and then run off again, I find works a treat. Trying to get them to sit down and eat their picnic is just not possible. The great outdoors is just too distracting.
10. Club together…
If you're going with another family or more, why not collaborate on the food so you're not taking too much and can put more effort into the bit you're in charge of. Why don't you do the savoury stuff and let the other family bring the sweet? There will probably be less waste this way too.
Join the No Junk Challenge
We know it can be difficult to eat food with no junk so join us to say no to junk and yes to healthy, real food for our families. Sign up to get involved.
Want more ideas?!
If you'd like more inspiration for home made picnic friendly grub, then check out this selection of goodies from my blogging friends around the web….
Oatmeal Raisin Spice Cookies from Elizabeth's Kitchen
Gruyere & Caramelised Shallot Nests from Fab Food 4 All
Spicy 3 Bean Sausage Rolls from Tinned Tomatoes
No Junk Apple Cinnamon & Strawberry Muffins from A Mummy Too
Spiced Apple & Rhubarb Hand Pies from Franglais Kitchen
Htipiti – an amazing Feta & Roasted Pepper dip from Greedy Gourmet
Root Vegetable Bread from Fuss Free Flavours
Brie, Fig, Parma Ham & Rocket Baguettes from Cook Sister
Simple Rye Soda Bread Rolls from How To Cook Good Food
Lemon Courgette Pesto Tart from Maison Cupcake
Pea & Coriander Dip from Food To Glow
Chorizo, Spinach, Onion & Potato Frittata from Kavey Eats
Mini Banana & Oat Loaves from The Botanical Baker
Leftover Roast Gammon & Roast Vegetable Frittata from Fish Fingers For Tea
Disclosure: I have been commissioned by Organix to write this blog post to promote their No Junk Challenge campaign. All views are my own.