A tasty Thai inspired soup packed with noodles and pak choi in a light coconut milk, ginger, lime peanut butter and coriander broth…
The firefighter's shifts have meant he's been around daytimes during the week lately, so i've been celebrating this fact by making an effort with bounteous lunches.
I spotted a fabulous looking Thai Noodle soup in this month's Good Food Magazine, however it wasn't particularly vegetarian friendly so I set about adapting it and scaled down the quantites for two.
The flavours in this soup genuinely lift your spirits, so it's perfect fodder for a wet and windy January day. The ginger and chilli combo really give you a sense that it's cleansing your system
It's too spicy for the boys, but that's the beauty of having it for lunch when they're not around! It's official, I'm banishing boring lunches!
Spicy Thai noodle soup (adapted from BBC Good Food recipe)
Serves 2-4
Ingredients
2 tbsp Thai green curry paste
2 tbsp crunchy peanut butter
small handful coriander, leaves picked and stalks finely chopped
5cm piece ginger, peeled and finely sliced into matchsticks
2 kaffir lime leaves, chopped
1 x 400ml light coconut milk
425ml vegetable stock
3 tbsp soy sauce
1 lime, juice only
2 heads pak choi, cut into quarters through the stalk
500g pack cooked rice noodles
1 red chilli, deseeded and finely sliced
2 small handfuls dry roasted peanuts, roughly chopped
Method
1. Pop the curry paste and peanut butter in a large saucepan and stir over a medium heat for a couple of minutes until it is blended.
2. Add the coriander stalks, ginger, lime leaves and stir, then add the coconut milk and stock, stir and then bubble on a medium to high heat for around 5 mins.
3. Add the soy sauce and lime juice then the pak choi. Once wilted add the rice noodles stirring thoroughly and allow to bubble for another minute more.
4. Divide between the bowls then scatter with coriander leaves, sliced chilli and peanuts.
I'm entering this vegetable friendly recipe into Helen and Michelle's blog event called Extra Veg. This soup would be happy with lots of different vegetables in if you can't get hold of pak choi. Green beans, broccoli, cabbage – whatever you have in.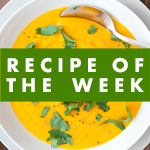 As this is the tastiest thing i've eaten all week, i'll also be putting this recipe in for #recipeoftheweek over on A Mummy Too, a fabulous place to grab inspiration for some kitchen activity.
The recipe is also winging its way over to No Croutons Required this month hosted by Lisa's Kitchen, to join in with the other bloggers who have made soups and salads this month
And finally, as it warms the cockles of Winter I'm also entering it into Four Seasons Food run by Louisa and Anneli