I've been challenged to use fresh turkey as an ingredient in a family picnic-friendly recipe that costs under £10 by the Lean on Turkey campaign.
Turkey is well suited to a nice soak in a marinade of an evening, it tenderises the meat and infuses flavour. So for my recipe I opted for a Japanese-style coating of soy sauce, honey, spring onions, ginger and garlic. It's really worth marinating overnight as the turkey totally absorbs all those glorious Asian flavours.
Once cooked the meat is dark and sticky on the outside, with a gorgously soft interior. I used escalopes as they're thinly sliced and quick to cook.
So how do we take these tasty morsels of meat on a picnic? We wrap them up in soft tortillas with crunchy vegetables and toasted sesame seeds, that's how.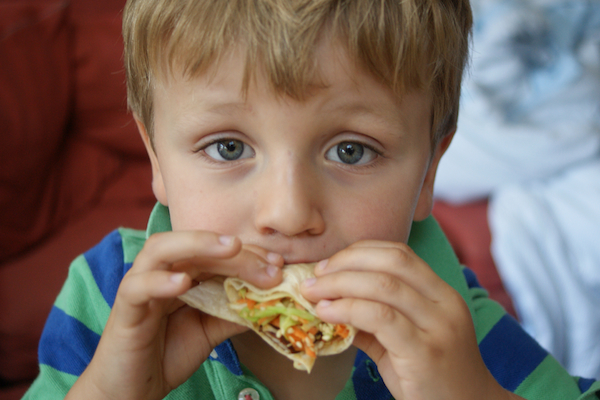 The boys were loitering hungrily as I was styling the photos, but what would they make of the wraps? Well you can always count on the salty and sweet flavour combination as Sam and Arlo both polished off the lot AND gave me a 10/10 rating… unprecedented.
I was on a 5:2 fasting day but didn't want to miss out completely, so kept it light with just the filling and none of the wrap, and it made for a satisfying salad.
Asian turkey wraps
Makes 4
Prep time: 15 mins, plus overnight marinating
Cooking time: 10 mins
Cost: £1.45 per person*
INGREDIENTS
2 spring onions
2 cloves garlic
2 cm piece ginger
1 tbsp mirin rice wine
4 tbsp dark soy sauce
2 tbsp clear honey
250g turkey escalopes
50g sesame seeds
2 carrots
small white cabbage
mayonnaise
4 large soft tortilla wraps
METHOD
1. THE DAY BEFORE! Chop the spring onions, crush the garlic and bash and finely chop the ginger and place in a bowl with the rice wine, soy sauce and honey. Submerge the pieces of turkey and combine until coated, then cover with cling film and pop in the fridge to mingle overnight.
2. In a dry frying pan on a medium heat,  toast the sesame seeds in batches until they start to pop and turn golden. Set aside.
3. Grate the carrot and finely shred a third of the small cabbage, then toss in a bowl with the toasted sesame seeds.
4. Heat a griddle pan and fry the marinated turkey pieces, turning frequently until cooked through on the inside and sticky on the outside. You may need to do this in batches depending on the size of your pan, but they only take a few minutes.
5. Lay out some greaseproof paper, place a tortilla on top, spread with a heaped teaspoon of mayonnaise, then scatter a thick line of the shredded vegetables down the centre. Place a couple of strips of turkey on top and then roll up tightly.
6. Wrap well in the sheet of greaseproof paper, trim the ends flush with the wrap, then using a sharp knife cut into three equal portions.
7. Pack snugly into containers and they're a perfectly portable picnic lunch for the summer holidays.
Cook's tip: You could also use chunkier cuts of turkey meat, marinade and then thread them on to skewers Yakitori style, and grill on the barbecue.
Costing Breakdown
Cost: £5.82 – Shopping bought at Waitrose
spring onions £0.25
ginger £0.10
garlic £0.10
dark soy sauce £0.50
honey £0.20
rice wine £0.20
250g pack turkey breast escallops £2.99
4 x large soft flour tortillas £0.60
mayonnaise £0.20
1/3 small white cabbage £0.28
2 carrots £0.20