I've never been one to skip breakfast, and now i'm a 5:2 dieter it's become even more important. Not only do I need to make sure I fill up enough on a fast day to get me through the day, I will then spend the rest of that day obsessing about what I shall eat first thing the next morning!
So it's been brilliant seeing all the entries for May's Breakfast Club Bakes blog event, as I'm now armed with a lot more inspiring breakfast ideas. Thanks to everyone who submitted a recipe, and here's a tasty round-up for you.
Utterly Scrummy kicked off proceedings with this rather inviting looking ciabatta loaf, which I can just imagine thickly sliced, toasted and drenched in some homemade marmalade. Get the recipe here
Next up was Tales of Pigling Bland with another tasty loaf, this time a masterful looking poppy seed plait. I'm not very brave when it comes to making bread, so I was rather in awe of this loaf. Get the recipe here
Chez Foti's rhubarb crumble muffins are the perfect example of a pudding in cake form – something I am more than a bit partial to. These were made during an indoor baking sesh to get away from the rain, a brilliant distraction no doubt. Get the recipe here
The lovely Botanical Baker whisked up these cute mini banana and oat loaves which look perfect for a morning energy boost. Loaf cakes are perfect for batch baking and then stocking the freezer with ready for early morning car expeditions and picnics. Get the recipe here
The More Than Occasional Baker knocked us up a fine looking batch of cornflake and raisin cookies. Biscuits for breakfast? Yes please! Get the recipe here
The Taste Space presented us with two entries this month, firstly a delicious bowl of baked apple and banana oatmeal, which looks like the  super nutritious breakfast feast of champions if you ask me! Get the recipe here
And secondly with these divine blueberry peach brown butter muffins which sound ultra summery and ultra naughty! Get the recipe here
Green Gourmet Giraffe sent an always welcome batch of flapjacks, or as they're otherwise known Porridgies out of the Katie Morag Big Storybook. Imagine them crumbled over yoghurt and fruit for breakfast…mmmmm like sticky crunchy granola. Get the recipe here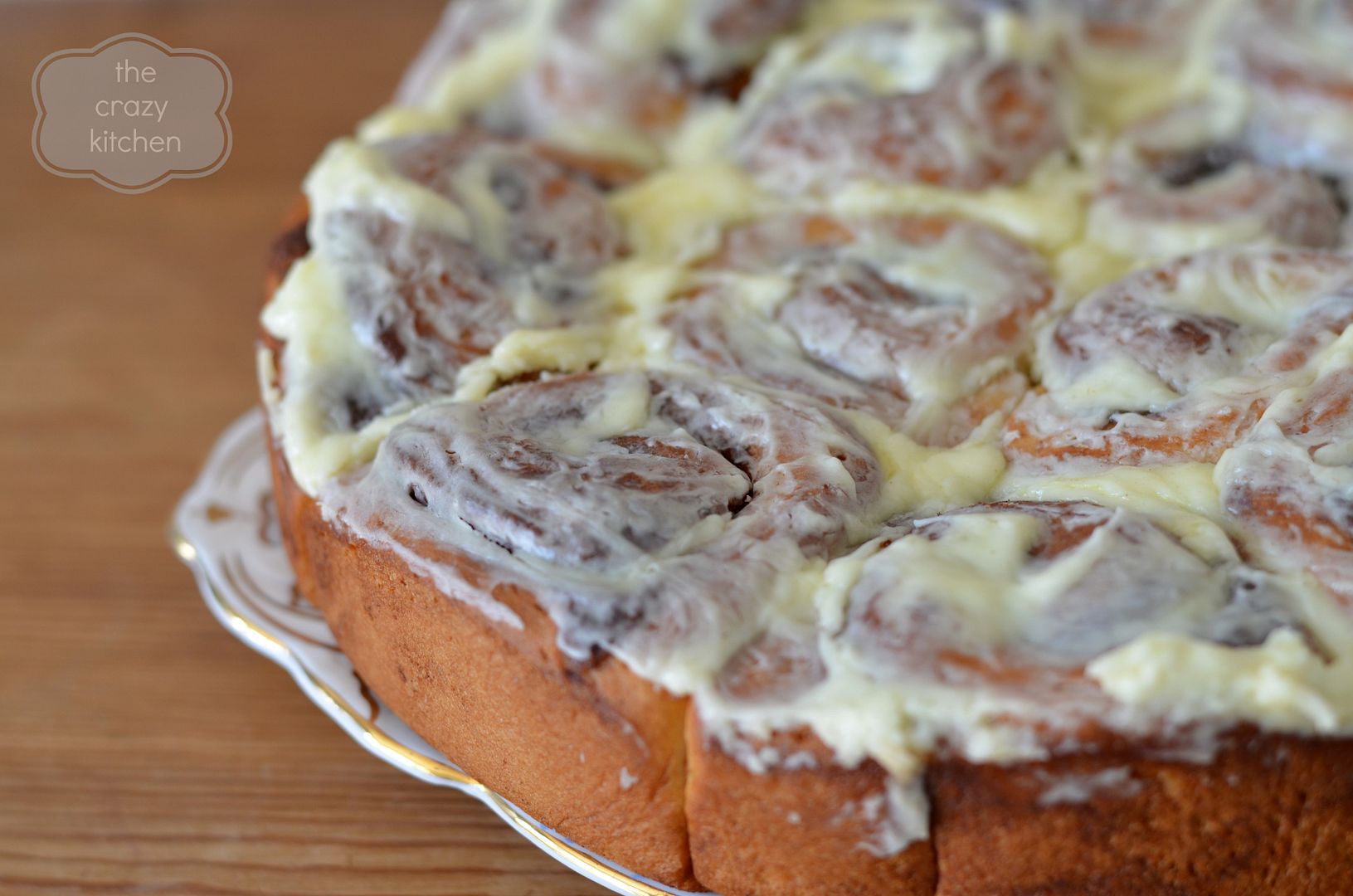 The Crazy Kitchen's cinnamon buns look truly diet busting… definitely one for a non fasting day. These take me back to happy holidays in the US of A, strolling through shopping malls looking for the source of those dreamy cinnamon smells coming from Cinabon. Get the recipe here
Utterly Scrummy came back with more breakfast baking, this time in the form of a yum sounding eggless banana bread. It started off as an experiment and turned out like a giant scone – sounds good to me! Get the recipe here
Scrumptious Sally offered up the lovely savoury idea of cheddar, chilli and courgette muffins which I would love to start my day with, washed down with some freshly squeezed orange juice. It's always good to have some courgette recipes up your sleeve for the summer's crop. Get the recipe here
Thanks to everyone who took the time to enter and share their delicious baked breakfast ideas – i've really enjoyed reading them all and poring over all the tasty pictures too! And thanks to Fuss Free Helen for letting me host this month.
The winner of the Dorset Cereals Breakfast book is…. Tales of Pigling Bland – congratulations!!!! I'll be in touch to sort out posting the prize to you shortly 🙂
If you're feeling inspired to join in with June's edition of Breakfast Club, keep a beady eye on Fuss Free Flavours where the next host will be announced