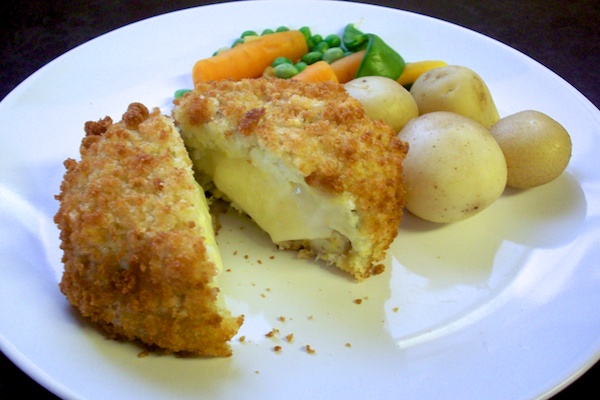 A warm welcome to my guest poster Jan Bailey who has very kindly reviewed some of the Saucy Fish Co. range for me… over to you Jan:
I was pleased when Katie asked if I might do a guest spot on her site again this year. Knowing my husband and I are keen on fish she asked "Would you like to try some of the Saucy Fish Co. products and tell me what you thought?" You betcha!!
I hot footed it down to Tesco and browsed the products on offer – Sea Bass with Beurre Blanc and Dill Sauce or Salmon Fillets with Watercress & Creme Fraiche Dressing both appealed. I finally chose the Smoked Haddock and Davidstow Cheddar Fishcakes – these are in the range of "melt in the middle fishcakes".
They look terrific on the front of the packaging, but would they live up to the picture? First step – remove from box. Yes, in their uncooked state they did resemble the photograph i.e. they were large and inviting (too often processed products are disappointingly less appealing than the picture suggests).
Next, place on baking tray in oven for the allotted time – at the end of cooking they came out looking good and had not burst open as sometimes happens with filled centres.
When you cut into them the melted cheese oozes out a little as you would wish – not too runny. The smoked haddock flavour is good and balances out the tasty cheddar filling. My husband and I both thought they were delicious and liked the crunchy breadcrumb coating too. The ingredient list did not hold any nasty surprises – just quality, wholesome food items.
I usually make my own fishcakes, either salmon and prawn or smoked haddock, which are a bit smaller than these, but I would definitely buy from The Saucy Fish Co. range again.
Check out Jan's delcious and seasonal fresh tomato soup recipe that she kindly put together for me last year.
Thanks to the Saucy Fish Co. for supplying vouchers for Jan to purchase the fishcakes for this review