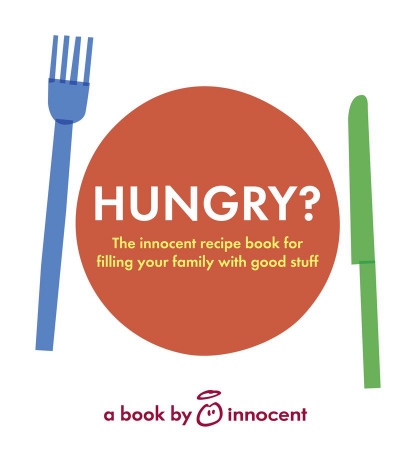 I'll lay it out on the table now, I really like the vibe of the Innocent brand.
It was born in West London and in the company's early days we used to get visitations from the team in my office at the BBC, tempting us with all the flavours to try and get us hooked – it worked!
I loved the fact that I could get a quick fix of my 5-a-day by necking a delicious fruity drink. I liked the funny and somewhat random messages on the side of the bottle. And when I was pregnant and couldn't face much food in the morning, the smoothies were a marvel.
The only thing I'm not fond of is their veg pots. Bit bland for my liking.
But onto the cook book…
Who is it for?
Big people feeding small people – i.e. family cooks. It's for conscientious parents who really want to make sure their kids are getting nutritious grub. Some of the recipes come from the Crumbs sisters, who get a credit at the back – so if you like their fuss-free food with a wry sense of humour then you'll love this book for sure.
If you love to curl up with a recipe book to read, and not just cook from then this is a great tome to have by the bed. It's a bit like the Boden catalogue with slightly annoying pages giving you ideas of 'fun' things to do in 10 minutes, but redeems itself with interesting pages about seasonal fruit and veg and sustainable fish choices.
Easy to follow? 
The recipes are clearly written, nicely laid out and very achievable. Only the intros and fun pages are littered with 'chat' – the recipe methods are left alone which is a relief because I find that a bit tedious when I'm cooking.
Family friendly?
Absolutely. There's plenty of non-surprising traditional crowd-pleasing dishes like cottage pie, spag bol and paella, but there's usually some kind of innovative twist that works some more veg into the equation.
There's also some more adventurous stuff to try out like roast duck with spuds and plums or Lebanese lentil salad. Whether kids would actually eat this kind of food is up to your tribe to decide, but it's always worth a punt I find as they can sometimes surprise you by suddenly finding an affinity with quite grown-up ingredients.
The chapters cover all the bases when it comes to family food – the obvious breakfast, lunch and dinner, but also snacks, baking and drinks too.
Most likely to cook
I'm currently working my way through the Veggie dinners chapter. Green mac and cheese went particularly well, as I blogged about earlier in the week. Veggie burgers are next on my list as they've got halloumi in which I'm addicted to.
I love the vegetable side dish ideas and the page Quick things to do with Veg, as an allotment grower with a lot of produce to burn through it's good to get some direction.
Least likely to cook
Home made beans on toast. Why bother going to all that effort when you can open a can in 3 seconds flat?!
Would you buy it for a friend?
Definitely – it's a great gift. It's an attractive looking book that'll look great on the shelf or even on your coffee table. But it's also extremely useful as fodder for inspiration when you're in a cooking rut and need to liven up your repertoire a bit.
Rating out of 10
8
It's a cheerful book that'll make you smile, probably laugh if you're in a good mood, and it'll certainly give you plenty of meal ideas that sneak a whole lot of fruit and veg into your kids' diet. 
Hungry? A book by Innocent is published by Fourth Estate

*****THIS COMPETITION HAS NOW CLOSED, NO MORE ENTRIES PLEASE****
WIN WIN WIN!
I have one copy of Hungry? to giveaway to a lucky reader….
1. For your main chance to win please comment on this post telling me your fave smoothie.
2. For a bonus second chance to win please tweet this post Win Innocent recipe book: Hungry? @cookingkt http://wp.me/pU5T8-Xa and comment HERE telling me you have done so along with your twitter username
3. For a third chance to win please follow me @cookingkt on Twitter and comment HERE to tell me you have done so.
*****THIS COMPETITION HAS NOW CLOSED, NO MORE ENTRIES PLEASE****
This giveaway is open to all readers with a UK mailing address. The winner will be chosen using an online randomiser and announced in a subsequent post.
I am running this competition on behalf of Fourth Estate who will be responsible for sending the prize to the winner. Their decision is final and no correspondence will be entered into.
There is one main way to enter and several ways to get bonus entries. You must leave a separate comment for each bonus entry otherwise they will not be counted.
Closing date: 10pm Friday, 28th October 2011
Good Luck!
Thanks to Fourth Estate for my review copy of Hungry?
*****THIS COMPETITION HAS NOW CLOSED, NO MORE ENTRIES PLEASE****